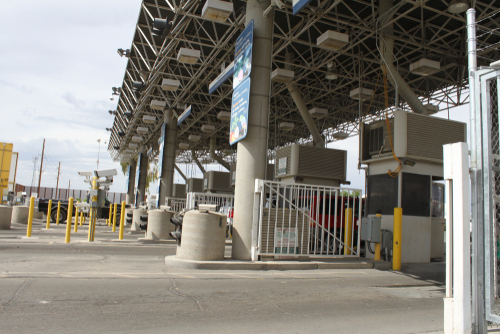 © Shutterstock
U.S. Sens. Gary Peters (D-MI) and John Cornyn (R-TX) introduced the Non-Intrusive Inspection Expansion Act (S. 4572) this week, seeking to improve the screening of vehicles, cargo, and overall border security at the nation's ports of entry.
Drug detection is one of the major focuses of the bipartisan bill, which, as its name implies, seeks to achieve this by increasing the use of non-intrusive inspection systems for U.S. Customs and Border Protection (CBP) officers. In addition to zeroing in on drugs, the bill intends to roll out more quick and effective means of screening large quantities of moving cargo. Not only that, it would demand more screening – requiring CBP to scan at least 40 percent of passenger vehicles and at least 90 percent of commercial vehicles entering the United States at land ports of entry by the end of 2024.
It comes at a time when, according to the CBP, 189,000 pounds of illicit drugs were interdicted at ports of entry last year alone.
"Dedicated CBP officers who work tirelessly to ensure secure and efficient trade and travel across our borders need the right tools to do their jobs safely and effectively. That is why I have worked to secure investments in screening technologies that can help these frontline officers deter criminal activities like drug trafficking," Peters said. "This commonsense, bipartisan bill will make sure that CBP is using this equipment to the fullest extent possible to detect illegal activity at our borders and to prevent illicit substances like fentanyl from reaching our communities."
The United States has been undergoing a fentanyl crisis that contributed to Congress providing CBP with $520 million for new screening systems in 2019. Since then, funds allotted for CBP's efforts have only increased. With that in mind, part of the senators' new legislation would be an oversight, guaranteeing CBP appropriately uses those resources to increase scanning rates at ports of entry. The agency must brief Congressional committees on its 2024 non-intrusive inspection scanning progress.
"Texas is the top exporting state in America, and more than $230 billion in goods is transported between Texas and Mexico alone each year," Cornyn said. "By expanding the use of non-intrusive inspection technologies, this legislation would help CBP officers to efficiently examine cargo coming into and out of Texas while keeping our border secure."
Should CBP fail to meet scanning requirements by fiscal year 2024, the bill would require CBP to submit a report explaining why it was unable to meet requirements, as well as its plan for ensuring compliance. Beyond that interim goal, the legislation also emphasizes the end hope for CBP is to achieve a 100 percent scanning rate at all land ports of entry.