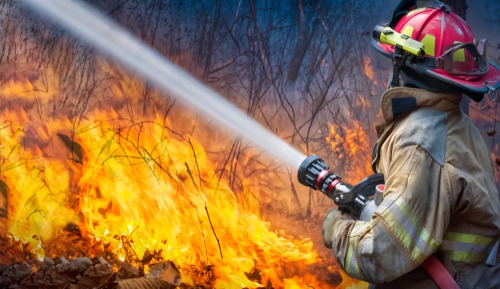 © Shutterstock
Seeking to increase preparedness for wildfires and reduce the risks they pose, a bipartisan group of senators this week introduced the Wildfire Emergency Act, using it to push for funding, new programs, and greater firefighter training efforts.
"Wildfires throughout Western states, particularly California, are becoming deadlier and more destructive because of climate change," U.S. Sen. Dianne Feinstein (D-CA), one of the bill's authors, said. "We must recognize this as the new normal and do all we can to help reduce the risk of devastating wildfires. This bill approaches the problem of wildfires from multiple directions: it accelerates forest restoration programs that reduce the threat of fire, funds programs to help communities mitigate local fire risks, and invests in technology and firefighter workforce training to better equip us to battle these fires. Every level of government and the private sector must be involved in this fight, and this bill will go a long way toward helping us prepare for a hotter, drier future."
Feinstein was joined in this effort by fellow U.S. Sens. Alex Padilla (D-CA), Steve Daines (R-MT), and Ron Wyden (D-OR). Together, they envisioned legislation that would provide up to $250 million for forest restoration wildfire resilience projects and up to another $100 million for retrofits under a new energy resilience program at the Department of Energy to guarantee critical facilities could remain active during wildfires and prioritize renewable fuels over diesel generators.
"Montanans are sick and tired of breathing in smoke as our forests continue to burn – we need to act now to mitigate the effects of yet another deadly fire season," Daines said. "Our bill expedites critical forest management projects, invests in next-gen technology and research, and protects at-risk Montana communities. We must manage our forests before they manage us.
To this end, the bill would also expand an Energy Department weatherization grant program to provide up to $13,000 to low-income households for wildfire-hardening retrofits – something insurance companies would also support with reduced fire insurance premiums for many that manage this. Wildfire detection equipment on the ground and in space would be expedited, while more generally, funding would be authorized for the expansion of forest conservation at the federal and more local community levels, as well as wildland firefighting workforce programs.
On that training end of things, the bill would also mandate the creation of a fire-training center in the West, as currently, the only U.S. Forest Service fire training center is based in Florida. New grants would also be issued to professional organizations, state agencies, and academic institutions to support the training of new foresters and firefighters.